This challenge from Apron Strings was to use at least 5 buttons and 5 brads.
This one is for the Apron Strings challenge to use at least 8 blossoms. I used a really LONG rub-on from Stampin' Up! and then put the blossoms on top of some of the flowers.
I originally was doing this for one of the Apron Strings challenges but I got a couple of them mixed up so this one didn't count but at least it's another page done!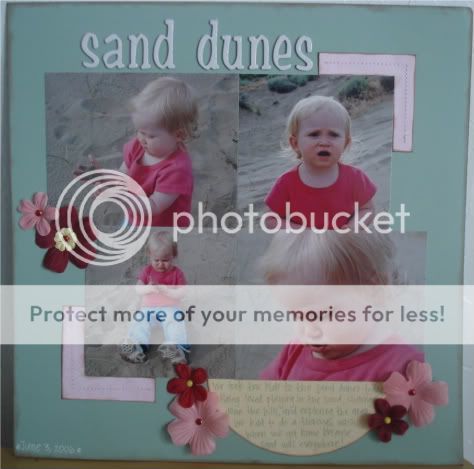 I used a sketch from Nuts About Sketches for this one of Haley at the sand dunes.
I did this one today for the Aprong Strings challenge to use 2 frames, and one couldn't be around a picture. So the bottom two blue rectanges are the frames I've had for about 4 years! One I used for a pic and the other for journaling.